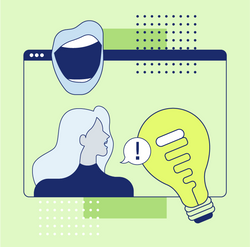 Online Consultation with Health Nag Coach
Get nagged in-person by a Health Nag Coach

Loren H. | Health Nag Coach
Credentials 
Certified in advance education in gut health.
Fully certified integrative holistic & nutritional coaching.
Successfully completed the Institute of Integrative Nutrition in New York, USA. 
Expertise
Loren's primary focus is food, lifestyle and supplementation, taking a holistic approach to health and healing. She has a special focus on gut health — The root of so many chronic illnesses we suffer today.

What's included in our online consultations?

- 60 minute in-depth consultation with our Health Nag Coach to understand more about your current health status & history, symptoms, and goals. The objective is to understand the root of your health concerns and to help you make a plan on the way forward.
- Detailed wellness protocol provided with optimisations on food, lifestyle and guidance on supplements.
- Guidance on further tests to have, if any.
- Email support following the session to answer any follow-up questions you may have on the protocol.
Who can benefit?
For everyone 16-50 yrs, who would like to learn about their health state. 
After purchase, you will be contacted by a member of Team Health Nag to arrange your Zoom consultation at a time convenient to you. You will receive a protocol after your consultation giving you the next steps for healing. 
 ALL VISITS must be done until 10th of October 2023.
Consultation with Loren
Had my first consultation with Loren. She was really helpful and provided some recommendations before she sent me the report... Thank uu
Excellent coach
Loren is an expert in gut and she knows exactly what is going on the body
Will be back soon!
Loved Loren! Such an amazing aura and so much knowledge. Loved every minute spent. She listed to all my issues very carefully, later on received a very detailed wellness plan with supplements, herbs. And guys they do actually recommend you the brands of the supplements. How amazing is that? But what most amazed me, is that this plan actually worked! I can sleep now 10 hours straight without waking up, my anxiety is gone, my digestion is doing me a favour by making it happen as it's supposed to haha LOVE IT! And btw their detox is such a magic in a box, literally stopped craving sugary nasties after it. Really, really recommend to go see Health Nag Team. If you guys have any issues even with yourself - go do it!
Recommended
Loren gave me a well rounded consultation and good summary email.
Thanks
I love the consultation with Natasha she helped me in 2020 I was having a lot of hormonal problems and I am back with her now for the same she is the best I feel I am going in the right direction with her